Certification ISO 9001:2008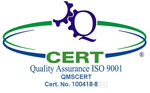 Our company aiming at the ultimate customer service, and in order to provide efficiency and continuous improvement of its operations and to achieve its goals and objectives, applies a certified Quality Management System - in ISO 9001: 2008 in the field of "Provision of e-learning services and development of digital training material", with certificate number: 16/2040 by Certech Registration Inc.
The purpose of the application of this standard in the company's everyday life was to continue to provide high quality services, compliant with regulatory and legislative requirements and ongoing efforts for improvement, both for services and for the Quality Management System itself.
Our policy focuses on:
Providing high quality eLearning services in platforms and developing digital educational material.
Innovative and creative ideas that our company members have in e-learning projects.
Our continuous customer support in order to exploit the solutions we offer to their organizations.
Covering training needs that occurred because of the rapid change of the current economic situation.
The satisfaction of our customers.
The continuing effort to improve our performance, and ultimately the upgrade of our services.
In order to achieve the above, the administration of the Organization, commits to:
Allocate all necessary resources that are required.
ΝCommunicate the quality policy to the staff and external partners of the company, so that it can be applied satisfactorily.
Encourage the staff and external partners to actively participate in the implementation of the Quality Management System.
The continuing effort to improve services and the constant coverage and forecasting of requirements.
The quality management system ISO 9001, aims to achieve the desired organization and continual improvements of the Company's operations to meet the requirements of the Standard, but mainly to meet the expectations of its customers. The application of the quality system, generates measurable results that help us detect any malfunctions, correct them and verify that our customers are completely satisfied with our services.
Through the certification process and the scheduled inspections of the Certification Agency, a good external testimony of an independent Agency that, on one hand the application of the quality system is in a satisfactory manner and on the other that all necessary actions are implemented to continuously improve the organization and our operations,is gained.
In WIDE Services we do not simply say that we know and can provide services, demonstrate our experience and reliability, with the certifications, the official partnerships with international and domestic companies and organizations and of course with the rich CVs of our team experts! We know how to innovate in eLearning and that is why we are different and trusted...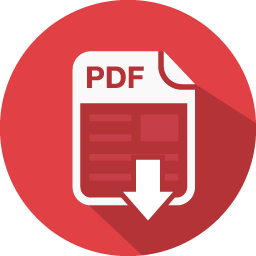 Πιστοποιητικό GR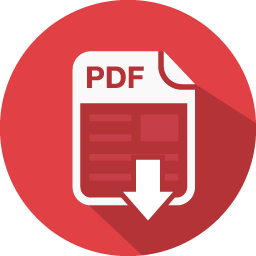 Πιστοποιητικό EN
Πιστοποίηση ISO 27001:2013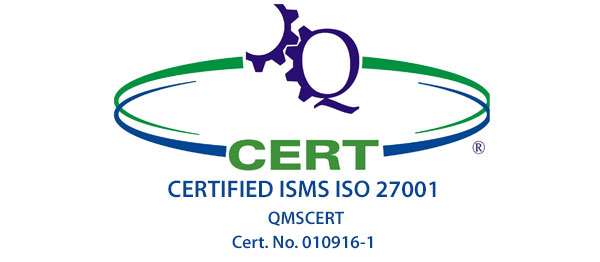 Η εταιρεία μας στοχεύοντας στην πιστοποίηση των μεθόδων και των διαδικασιών που ακολουθεί στα θέματα ασφαλείας για τις πληροφορίες που της εμπιστεύονται οι πελάτες της, εφαρμόζει πιστοποιημένο Σύστημα Διαχείρισης Ποιότητας - κατά ISO 27001:2013 στο πεδίο "Ανάλυση, σχεδιασμός, προσαρμογή, ανάπτυξη, εγκατάσταση, εκπαίδευση, υποστήριξη, φιλοξενία (hosting) και ολοκλήρωση σύγχρονων και ασύγχρονων συστημάτων τηλεκατάρτισης, e-Learning και συναφών λύσεων πληροφορικής (Analysis, design, implementation-customization, development, installation, training, support, hosting and integration of synchronous and asynchronous distance learning systems, e-Learning and IT related solutions)", με αριθμό Πιστοποιητικού: QMSCERT ® No 010916-1.
Ποια είναι λοιπόν η σημασία του και τι περιλαμβάνει;
Εισαγωγή των κατάλληλων διεργασιών ασφαλείας που οδηγούν στην μείωση των ρίσκων και κινδύνων ασφαλείας.
Πρόληψη διαρροών πληροφορίας και δεδομένων.
Ανάπτυξη σχέσης εμπιστοσύνης τόσο σε σχέση με πελάτες όσο και με συνεργάτες και προμηθευτές της επιχείρησης.
Αναβάθμιση του ανθρωπίνου δυναμικού μέσω της συνεχούς ενημέρωσης & εκπαίδευσης των εργαζομένων σε θέματα ασφάλειας των δεδομένων.
Απόδειξη στα ενδιαφερόμενα μέρη ότι η επιχείρηση φροντίζει και σέβεται τα προσωπικά τους δεδομένα
Μείωση του επιχειρηματικού κινδύνου καθώς μέσω των καθορισμένων ελέγχων διασφαλίζεται η μείωση της τρωτότητας και αδυναμίας.
Διασφάλιση εναρμόνισης & συμμόρφωσης με :

τα διεθνή πρότυπα ασφαλείας πληροφοριών
την κείμενη νομοθεσία
το κοινοτικό πλαίσιο

Με την προστασία των πληροφοριών από μια ευρεία σειρά απειλών εξασφαλίζεται η επιχειρησιακή συνέχεια και ελαχιστοποιούνται οι επιχειρησιακές απώλειες.
Προστατεύονται τα αρχεία και τα δεδομένα της επιχείρησης, οι προσωπικές πληροφορίες του προσωπικού και των πελατών, και τα πνευματικά δικαιώματα.
Ορίζονται αρμοδιότητες και υπευθυνότητες για την ασφάλεια των δεδομένων, γίνεται ενημέρωση και εκπαίδευση των εμπλεκόμενων σε ζητήματα ασφάλειας δεδομένων.
Ενδυναμώνει την εμπιστοσύνη των επιχειρησιακών συνεργατών που εμπιστεύονται πληροφορίες τους στην επιτήρηση των πιστοποιημένων επιχειρήσεων, καθώς οι πληροφορίες είναι διαθέσιμες μόνο στο εξουσιοδοτημένο προσωπικό.
Αποδεικνύει μέσω ενός ανεξάρτητου φορέα ότι τα οργανωτικά ρίσκα έχουν αναγνωριστεί, αξιολογηθεί και διαχειριστεί ικανοποιητικά και σωστά.
Η WIDE Services εξελίσσετε συνεχώς και αποδεικνύει έμπρακτα ότι ενδιαφέρεται για την ποιότητα των υπηρεσιών που προσφέρει.