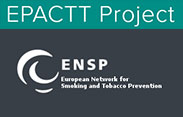 European Network for Smoking and Tobacco Prevention Training Program
Project framework: Pfizer Independent Grant for learning & Change.
Duration: 2016-2018
Partners: ENSP, Global Bridges, WIDE Services
Web page: http://elearning-ensp.eu/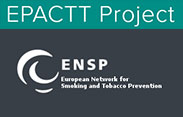 EPACTT 2 Project
European Network for Smoking and Tobacco Prevention Training Program
Project framework: Pfizer Independent Grant for learning & Change.
Duration: 2016-2018
Partners: ENSP, Global Bridges, WIDE Services
Web page: http://elearning-ensp.eu
Project Description
ENSP is an international non-profit organization established in 1997 under Belgian law to develop a concerted action strategy among the bodies involved in the fight against smoking in Europe through the exchange of information and experience and through coordinated activities and joint projects. The ENSP aims to create greater coherence between smoking prevention activities and to promote comprehensive tobacco control policies at both national and European level.
As a result of the mission and the work of ENSP is the EPACTT project.
General Project Objective
EPACTT aims to increase the number of health care professionals interested in tackling tobacco dependence initially in Romania, Armenia, Georgia, Ukraine and Russia.
The project has two main objectives:
Develop a CME-certified hybrid training course (e-learning pilot course) for healthcare professionals based on best tobacco and policy-making practices.
Further develop the European guidelines for tackling tobacco dependence as referred to in Article 14 of the FCTC and translate and adapt the guidelines in the Romanian, Armenian, Georgian, Ukrainian and Russian languages.
During the project, the countries with which ENSP has started to cooperate have grown and are addressing healthcare providers committed to promoting tobacco dependence treatment in Albania, Armenia, Belgium, Bulgaria, Georgia, Greece, Italy, Kosovo , Poland, Romania, Russia, Serbia, and Slovenia, a total of 13 countries.
professionals based on data.
One of the main goals of the project is to educate and support health care providers to identify, cure and support smoker patients. For this reason, the use of distance learning has been chosen and will be accompanied by receipt of integration certification.
As part of the EPACTT 2 project, WIDE Services undertook to implement the eLearning training platform for healthcare providers as well as all the courses in digital form to achieve the objectives of the project. Within the framework of the co-operation is the training of the platform responsible for the management of the platform as well as the continuous support of the platform and the material.