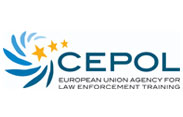 Cepol
Πλαίσιο έργου: European Union Agency for Law Enforcement Training/ CEPOL
Διάρκεια: April 2018 – December 2018
Ιστοσελίδα: https://www.cepol.europa.eu/
Project Description
CEPOL is an agency of the European Union dedicated to develop, implement and coordinate training for law enforcement officials.
CEPOL contributes to a safer Europe by facilitating cooperation and knowledge sharing among law enforcement officials of the EU Member States2and to some extent, from third countries, on issues stemming from EU priorities in the field of security; in particular, from the EU Policy Cycle on serious and organised crime.
CEPOL offers online support to all major learning and training services, particularly through its learning management system (LMS) and the audience is restricted to Law Enforcement Officials only. The online support is provided to residential courses, online courses, exchange programme, European Joint Master Programme, online modules, webinars, platforms for communities of practice, Virtual Training Centre (VTC) and reporting.
CEPOL employs a multi-layered approach to learning, including:
residential courses and seminars
online seminars (webinars)
e-learning modules
bilateral exchanges through the Exchange Programme
research and science conferences.
All activities are supported by e-Net, CEPOL's online learning platform. Though e-Net, users have access to tools and resources that support and prolong the learning experience. The e-Net platform also hosts the e-Journals service which provides registered users with access to international scientific journals related to police science and police practices.
CEPOL activities provide opportunities to stay up-to-date with the latest international developments and trends in the law enforcement field, especially concerning cross-border and serious international crime.
The project WIDE Services has been responsible for is the provision of course online support services (concerning the preparation, design and development, implementation and evaluation) of online support to CEPOL training and learning activities for 2018, online representation of courses, and functional services for the optimization of Moodle to CEPOL training services.