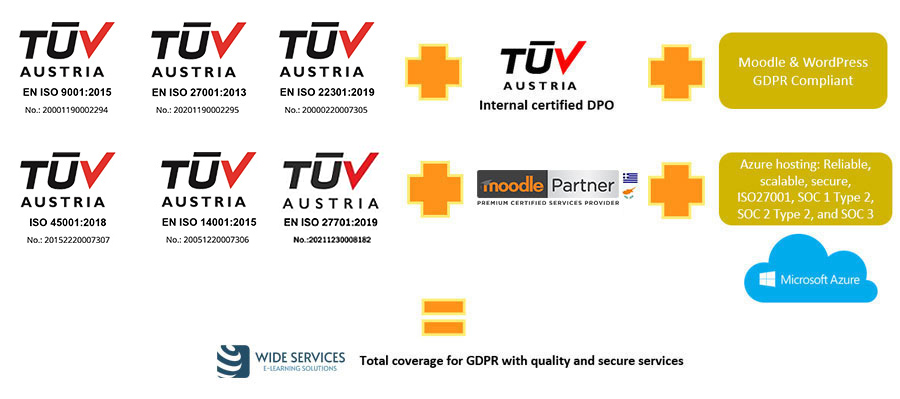 WIDE Services will design a solution that covers the GDPR standards.
Moodle platform comes with all necessary plugins(https://docs.moodle.org/35/en/GDPR) to assist a Controller, Data Processor, and Data Protection Officer (DPO) with efforts to meet the obligations and rights enacted under the GDPR.
Company holds ISO 9001:2015, ISO 27701: 2019 and ISO 27001:2013 since 2016 at the field of "Analysis, design, implementation-customization, development, installation, training, support, hosting and integration of synchronous and asynchronous distance learning systems, e-Learning and IT related solutions"
WIDE Services uses Microsoft Azure Cloud service which is the most secure and reliable cloud service from all available. Azure meets a broad set of international and industry-specific compliance standards, such as General Data Protection Regulation (GDPR), ISO 27001, HIPAA, FedRAMP, SOC 1 and SOC 2, as well as country-specific standards, including Australia IRAP, UK G-Cloud, and Singapore MTCS. Rigorous third-party audits, such as those done by the British Standards Institute, verify Azure's adherence to the strict security controls these standards mandate. (https://azure.microsoft.com/en-us/overview/trusted-cloud/).
Key employees of WIDE Services have successfully trained for DPO Executive from TÜV AUSTRIA Hellas.
All the above, are important reasons to select WIDE Services to comply your LMS with the GDPR.