WIDE Services contributes as much as possible with the means at its disposal to support efforts of people and organizations that promote science and social action. Always respecting the intellectual property of people and of the parties involved, WIDE Services has offered without any cost or other consideration its services when requested. Among many other actions, we would like to mention the following:
WIDE Services supports research made by students concerning the development or the implementation of best practices based on the use of the Moodle platform, in the context of dissertations for undergraduate, graduate and doctoral students.
Depending on the needs and the subject of each work, we occasionally provide οur services for free to students, such as installation of the latest version of Moodle, hospitality to our server, automated backups and appropriate support and counseling. These are the key elements to enable the student to have a stable environment and run the design..
The aim of this action is to help university research and student effort for the utilization of Moodle that may help the Moodle community to evolve and the Greek presence to be strengthened with appreciable efforts.
If you are interested in this specific action contact us to discuss the details (www.wideservices.gr και 210 4223330, info@wideservices.gr , , 46-48 El. Venizelou Av. &Kanakidi1, Kalithea, 17676).
Development, support and hosting of the page for the Prevention Center of Addictions and Psychosocial Health Promotion - "Phaeton", of Ilion, Petroupoli, Ag. Anargiri-Kamatero municipalities.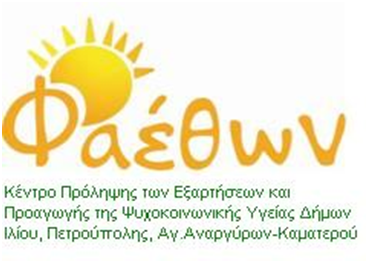 Read more about the action of Phaethon Φαέθων.
In this difficult time in our country it is necessary for everyone to provide assistance, each one with his abilities and in his/her field so as not to deprive ourselves of a quality education and specialized knowledge, which is one of the strongest weapons in everyone's personal battle to exit from the crisis.
With this in mind, WIDE Services decided on 23.9.13 to apply discounts of 30% for the unemployed and for families with many children (231 €) and 20% for students (264 €), instead of 330 € which is the initial fee for the participation in preparatory courses which will lead to the acquisition acquire of the internationally recognized user certification ofthe Moodle e-learning platform, the Moodle Course Creator Certificate (MCCC).