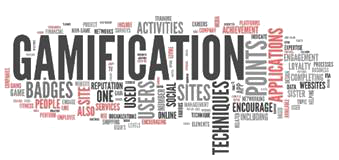 "The use of game elements and game design techniques in non-game contexts."
Prof. Kevin Werbach University of Pennsylvania
Gamification:Use of game elements and game technical design in order to achieve user motivation & engagement especially for corporate e-learning.
Increase efficiency, knowledge and satisfaction of your learners.
Use Gamification to engage your learners, reward their efficiency and improve communication within your organization. Using Mini-games, points, badges and rewards will make eLearning fun while giving apprentices an amazing learning experience.
What is Gamification:
Gamification in a few words is the use of gameplay mechanics to non-game applications. It is a reward system which increases the interest and develops a more meaningful relationship with the object. In the world of eLearning, gamification is the use of game mechanisms to attract users and reward their effort to learn.
What is not Gamification:
Gamification is not a game! The trainees are not required to play a game. It's an approach technique. From Gamification your students to:
Choose to play the game or participate in the course.
Choose to continue to play and continue to be trained.
Feel they have control.
Have a good time.
Game Design Integration in E-learning via LMS Gamification:
The application of game design in e-learning can help teachers to enrich their lessons. In the educational sector, gamification has been used to attract learners. Today, in the Internet age, it can be easily integrated into your Learning Management System.
Gamification in Moodle :
Some of the most common gamification features include missions, medals, points and rewards, social media sharing, and leaderboards. Course content and resources can be shared among students through quests.Content or information required to complete tasks, can be hidden and revealed only under certain conditions through limited access content settings.


Activities can allow each student to progress under conditions at different rates within the same classes. Different grading scales may lead to difficulty graded activities.Groups, for example, can be created in order to encourage students to work together.
Other activities may include using teamwork to achieve the objective as a condition.
Standard rating can be replaced with an alternative reward system. The system can even make notes on the student's behavior ability and not just grade.
Leaderboards or scoreboards, for example, may present the greatest scores and even the next higher competitor thus setting smaller targets that look much more achievable. Challenges and other social tools are applied through games.
In each game or activity points can be assigned. Successful course completion activities as well as the students' scores can be used to create a comprehensive ranking among trainees.
Leaderboards can be used to create a competitive climate. At the end of the course, the overall scores can be recorded and the teachers can decide how to reward the best.
Depending on the objectives of the course are the appropriate Gamification techniques are used.
Features of Moodle Gamification:
Badges
GamesModules
Points and Rewards
Leaderboard High Score
Leaderboard Direct competition (displays 2 next higher scores and 2 immediate lower scores)
Games developed in rapid elearning course builders such as Articulate and Captivate.
Social Media Sharing
Other advantages of Moodle are:
Collaboration και Feedback.
Activities aim to gain and maintain students' interest and meet their course objectives.
Better reward system.
Games provide a more lenient failure environment.
Challenges and social tools implementation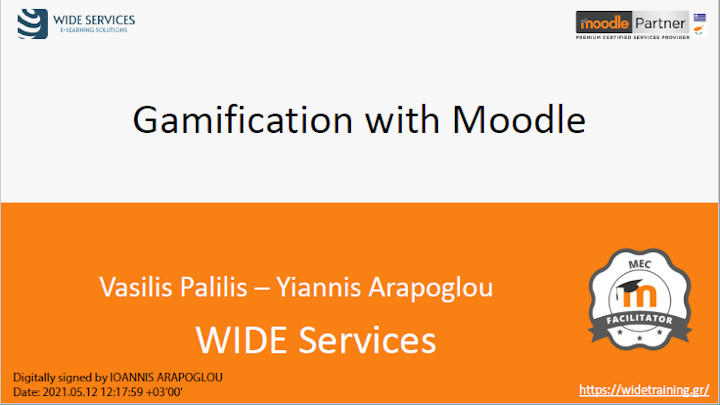 PDF Presentation
Gamification στο Moodle
What the scientific approach of games on the active participation of students teaches us
Discover ideas and ways to make your lessons more appealing to your students!Solutions and techniques for each level or intra-company training