The process of analysis and design of the ADDIE method consists of the following steps: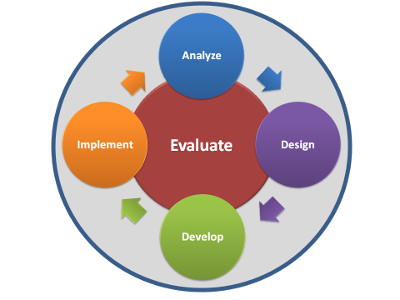 Collection and Analysis of Educational Material:The instructional designers receive the material, study it and categorize it in modules
Activities Design: Our experienced designers design the educational activities of each section and choose the appropriate techniques in order to be adapted to the educational material.
Graphics:The graphic designers design animations and graphics needed for each training module
Creating Audio Files: Our team undertakes the synchronization of the audio files with slides according to the client's instructions.
Programming:Programmers receive the design and sound files from the experienced designers and the graphics from the graphic designers, and then they develop educational activities and produce a learning object.
The learning object is checked for correctness and completeness by the Instructional designers and software technicians, who provide the appropriate feedback for corrections and suggest improvements.
Presentation: The learning object is delivered to the people of your company, which sends any corrections and/or comments.
Final Deliverable: Our designers along with graphic designers and programmers implement the customer's required changes and prepare the final deliverable. The final SCORM file goes in the client platform.
Work samples:
---
WIDE Services - Moodle Certified Services Provider
In WIDE Services we do not simply say that we know and can provide services, demonstrate our experience and reliability, with the certifications, the official partnerships with international and domestic companies and organizations and of course with the rich CVs of our team experts! We know how to innovate in eLearning and that is why we are different and trusted...

---