WIDE Services and the WIDE E-Training Academy proudly announces its Partnership and embraces SCIENTIX's STEM 2022 Discovery Campaign, European Schoolnet that invites projects, organisations, libraries, schools, universities and youth clubs across Europe and around the world to celebrate careers and studies in the fields of Science, Technology, Engineering and Mathematics (STEM).
The theme for this year's campaign is:
STEM for all
STEM is present in virtually all aspects of our lives. That is why we believe everyone should have access to it. This year, every educational stakeholder is encouraged to organize events and activities that raise student awareness and make STEM accessible to everyone, showcasing key skills that students and our societies will need in the near future.
Running from 1 February to 30 April 2022 with a peak of activities during the week of 23 to 30 April, the STEM Discovery Campaign is a celebration of the ongoing commitment and work carried out by dedicated teachers and every stakeholder in education to improve science education and literacy in Europe.
WIDE Services, being among a handful of Global Premium Moodle Certified Partners, considers as incumbent on us to place STEM Education using Moodle. Since 2013, has in its vision and is well established among the Global Moodle Community for its tracking history as a Train the Trainers with Moodle. Therefore, we fully foster and effectively contribute to the scope and the ongoing Campaign and we are depicted among the Partner Organisations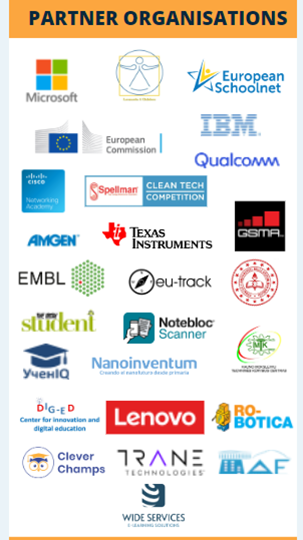 WIDE Services and the WIDE E-Training Academy Platform, being a Partner Organization of the 2022 STEM Discovery Campaign, is delighted to advocate the Campaign Initiative and is offering for free 5 seated licenses for 5 winners of the Scientix Competitions running in the context of the 2022 STEM DISCOVERY CAMPAIGN. The winners will have the opportunity to attend the Course entitled STEM WITH MOODLE, to learn in depth and engage with almost every STEM relevant Moodle feature. The STEM with Moodle training program meets the different needs of each learner, providing:
educational material in various forms (text, video, links, interactive content) and giving the learner the ability to freely "move" across the material, depending on the degree that s/he already knows the educational subject.
self- peer – assessment tools that enable each participant to evaluate his / her learning and the degree of acquisition of knowledge and skills.
a solid assessment system.
suggested activities – challenges that the participants are called to implement.
a system for collaboration between the participants and demonstration of their work.
Check the 2022 STEM DISCOVERY CAMPAIGN and be the one of the five winners!
We are looking forward to meeting you!
Bellow you can find the current activities Map for 2022
Add your STEM activity on the Map!
Are you participating in a STEM activity between February and April 2022? Include it on the map! Participants organising an online STEM event or a STEM activity at schools from 1 February to 30 April 2022 may also enter the STEM Discovery Campaign competitions.