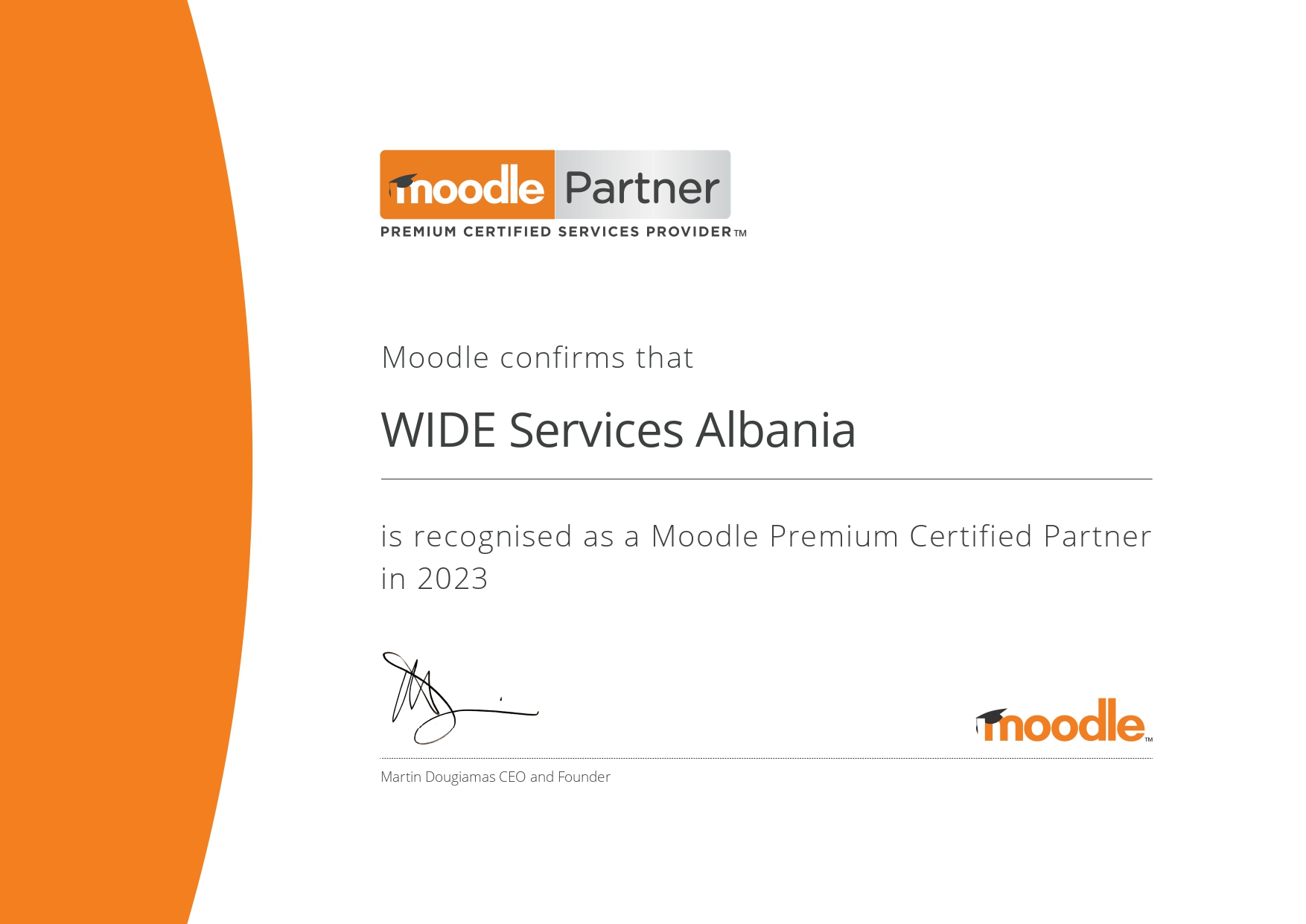 We proudly announce that as of today
WIDE Services has been named Moodle Premium Certified Partner in Albania!
This new partnership expands the company's reach and services, allowing it to address a wider range of customers from both the educational and business sectors.
WIDE Services has established strategic Moodle partnerships in the markets of Greece since 2013 and Cyprus since 2017, and has been awarded as the Educator Partner of the Year in 2019.
All these years have been defined by steady success that has led to our latest recognition as Moodle Premium Certified Partner in our neighboring country. This latest partnership has been an endeavor that started on September 2022, after the visit in our premises of Martin Dougiamas, the Founder of Moodle, and has been finalized a few days earlier.
Our CEO, Yiannis Arapoglou, stated: "We are thrilled to expand our operations to Albania through our partnership with Moodle Pty Ltd. This new endeavor wouldn't be possible without the trust and support of our partners at Moodle. We are truly grateful for this opportunity and we feel particularly honored as only a few partners have achieved to be recognized in more than one countries." The Western Balkans region, including Albania, is undergoing a digital transformation, with the digital education sector being a key part of the innovations that are gradually being implemented. WIDE Services has proven its ability to meet these challenges, with a solid track record of relevant EU and international projects and a strong presence in the region as a Moodle Premium Certified partner: we have already implemented a large-scale project for VET schools in Albania, using the Moodle Workplace and the Branded Moodle App, for 10,000 students in several schools. The project is in a pilot stage, with plans to expand to more schools in the coming year. WIDE Services is thrilled to be part of this digital transformation as a Moodle Premium Certified Partner in Albania, looking forward to providing the best, tailor-made digital learning solutions to a wider range of customers in our neighboring country.